Who We Are
Community Women (CW) is a supportive, inclusive Christian membership organization where women grow spiritually while serving and working to create a world in which all women, children, and youth thrive.
Here are some of the ongoing missions that Community Women support–
Holiday Helping Hands – provides Christmas gifts for children of families in need
This 'n That Sale – annual spring rummage sale that serves the community and raises money for various missions
Soup for the Soul – provides soup for the sick and downtrodden and raises money for various missions
Clothing Giveaway – annual fall clothing drive provides free clothing to the community
Living Hope – quarterly preparation and serving of meals to low-income families in Jeannette
We also hold special events for women.  In the past year, we presented Aspire Production's Girls Night Out, a Joyce Meyer videocast titled "Kick Anxiety to the Curb", and a Wellness Workshop by fitness expert Lauren Rasky.  We are planning a Faith, Food, and Fitness Day in October to continue the theme of caring for our spiritual and physical bodies.
Check out our schedule of events below. We invite you to join us anytime to learn more about how you can plug in and help make a difference in a world that needs to know the love of Jesus Christ!  Contact Amy Frey for more information.  amyfrey800@gmail.com
Schedule of Events
Community Women Facebook Group...
Photo Gallery
Annual Christmas Dinner Out
Clothing Giveaway
Holiday Helping Hands
Aspire Girls Night out
Living Hope community meal
Fall Potluck Picnic
Craft Night
This 'n That Sale
Easter Egg Hunt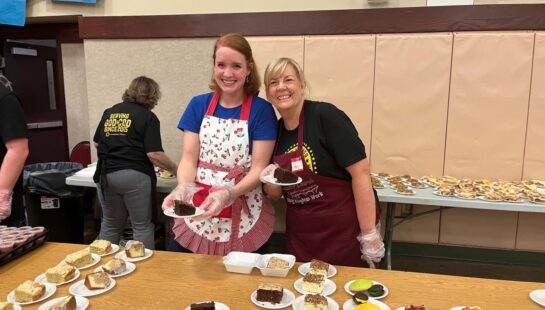 Lenten Dinners
This 'n That Bake Sale
Wellness Workshop